You Deserve the Best in Dental Care
You deserve the best in dental care, and at Noa Dental, we are committed to placing the highest value on all your concerns, keeping up to date with the latest procedures, equipment and tools to deliver only the finest in services. In a warm and friendly atmosphere, the knowledgeable staff at Noa Dental is here to help, ensuring that you will get the finest and comforting dental care that you and your family deserve.

The only way to provide excellent care and the best patient experiences is with a gentle touch, and providing patient amenities that will allow you to enjoy each visit, making you look forward to your next visit.
Meet Your Valencia Dentist - Dr. Jin Kim D.D.S.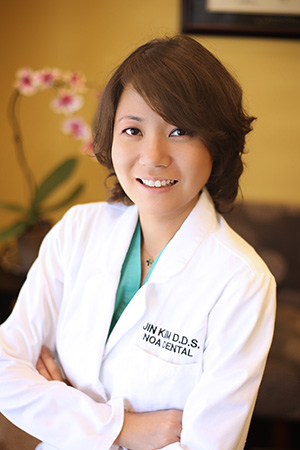 JIN KIM DDS
DENTIST - Invisalign Preferred Provider
A Summa Cum Laude graduate from the State University of New York at Buffalo School of Dental Medicine, residency at Harvard University School of Dental Medicine, Dr. Jin Kim, DDS has been providing a wealth of knowledge and experience to her patients, practicing family and cosmetic dentistry in North Hollywood, Pasadena, and La Canada/La Crescenta area. She has also practiced in Boston, MA and Austin, TX prior to moving to the greater Los Angeles area. Dr. Kim is happy to haver her practice in the Santa Clarita Valley.
EDUCATION:
Dental Residency:

Harvard University School of Dental Medicine - Boston, MA

Dental School:

State University of New York at Buffalo School of Dental Medicine - Buffalo, NY - Graduated with Summa Cum Laude
AWARDS:
Hanau Prosthodontics Award - 2008
Omicron Kappa Upsilon Award - 2008
Buffalo School of Dental Medicine Class of 64 Scholarship - 2007
American Dentistry Carl Lasher Scholarship - 2007
Buffalo School of Dental Medicine Clinical Excellence Scholarship - 2007
Buffalo School of Dental Medicine Tucker Scholarship - 2007
New York Monroe County Dental Society Scholarship - 2007
Buffalo School of Dental Medicine Tucker Scholarship - 2006
New York Monroe County Dental Society Scholarship - 2006
Buffalo School of Dental Medicine Tucker Scholarship - 2005
New York Monroe County Dental Society Scholarship - 2005

MEMBERSHIPS:
Omicron Kappa Upsilon - National Dental Honor Society
American Dental Association (ADA)
California Dental Association (CDA)
---
Meet Your Endodontist - Dr. Amit Batheja, D.D.S.
AMIT BATHEJA, DDS
ENDODONTIST
Dr. Amit Batheja is a specialist in dentistry in the field of Endodontics. He received his Doctor of Dental Surgery degree from Loma Linda University in 2002. He practiced comprehensive general dentistry for 5 years, and has experience in organizational aspects of dentistry in Direct Gold Restoration workshops, as well as through contributing as faculty at USC's Emergency Care Services for a year prior to completing his post-graduate endodontics residency program at USC. Dr. Batheja focused his research in advanced endodontic microsurgery of rare, non-healing cases and recalcitrant lesions, including histological studies, detection and isolation of cholesterol crystals from within cystic lesions.

As an endodontist, Dr. Batheja provides a thorough diagnosis and identification of the patient concerns as they relate to their overall best interest, comfort, well-being and peace of mind. Dr. Batheja's appreciation of the preventive aspects especially in pediatric cases, and highly competent interceptive clinical skills provide his patients with a very high standard of endodontic care. He performs routine and complex endodontic treatment diligently with the most conservative management whenever possible as well as in treatment of advanced cases requiring endodontic retreatment or surgery.
EDUCATION:
Advanced Endodontics Certificate Residency:

The University of Southern California - Los Angeles, CA

Dental School:

Loma Linda University - Los Angeles, CA
MEMBERSHIPS:
American Dental Association
California Dental Association
American Academy of Gold Foil Operators
American Association of Endodontists
---
Meet Your Periodontist - Dr. Elizabeth Hoang, D.M.D., M.S. (Board Certified)
ELIAZABETH HOANG, DMD, MS
PERIODONTIST
Dr. Hoang has been in practice since 1997. Her specialty focuses on the treatment of Gum Diseases and provides Implant Therapy. She obtained her doctor's degree (D.M.D.) at Tuft University in Boston and completed her specialty training in Periodontics at the prestigious Columbia University in New York where she also received her Master in Oral Biology. She was also a clinical instructor for six years at Columbia University and had served on the school's Admission Committee. Her practice's philosophy is to provide patients with a gentle and comprehensive care that will promote and maintain a healthy dentition. Her primary goal is to give her patients the highest quality care and the most cost-effective treatment plan that tailor to each patient's needs for a long-term prognosis.

The services she provides include:
- Treating Gum Diseases and long term maintenance
- Gum Grafting for receding gum line
- Dental Crown Lengthening
- Extraction and bone grafting procedure
- Dental Implants- Replacing missing teeth
- Periodontal Plastic Surgery Procedure
EDUCATION:
Periodontics & Masters in Oral Biology:

Columbia University - New York, NY

Dental School:

Tuft University - Boston, MA
---
Meet Your Registered Dental Assistant - Lisette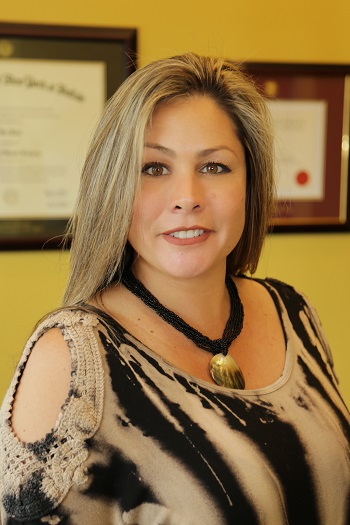 LISETTE
REGISTERED DENTAL ASSISTANT
She is a proud, born and raised, Santa Claritian. You can find her out and about at various fairs and functions in "The SCV". She loves this town!!

Having been a dental assistant for 25 years she keeps on top of the latest technology and materials through various courses, lectures, and conventions. She always says she "feels so blessed to be a part of a great family practice that is NOA Dental". "One aspect of my job I find super enjoyable is being able to sit with you and ask how your family is doing." We value our patients and take the time to know each and every one of them. A proponent of education, she shares the NOA Dental philosophy of: our goal is not to just provide great services but also to educate our dental family about their oral health in a fun and friendly environment.

She has 4 awesome kids (ages from 28 to 13 years old) that keep her going. So, when "The Teeth Protectors" of NOA Dental are not helping save teeth you'll find her volunteering at church or at the beach catching waves with the family.